View all posts
Tips For Memorable Summer Trips
07/07/2021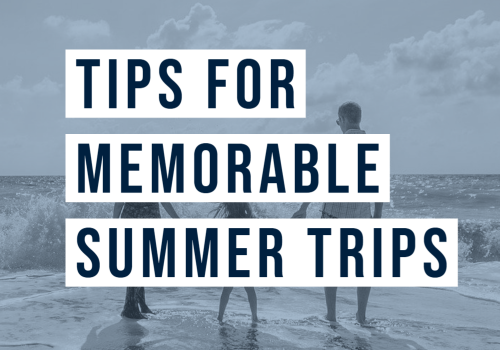 Traveling with your family can be very exciting and stressful all at the same time! We have put together a few tips and tricks to make your summer vacation a little less expensive and added in a little more time with the family.
Save gas and time – most people do their traveling on weekends, if you can travel during the week, you can spend less time sitting in traffic and cut down on fuel too. Get there quicker for less!


Make the Drive and Enjoy the Sites – If flying is not in the budget, pack up the car and visit the sites along the way! Look for national parks, landmarks, tourist attractions and make the journey part of the vacation. This also allows fun leg stretching opportunities!


Save on Food – Eating out with an entire family gets expensive very quickly, putting together a fun themed meal plan for your vacation can be fun and save you a lot of money. Spend the money on adventures instead of eating.

Activity Packs for Kids – Are we there yet?! Put together activity bags with a fun activity and snack to give to your kiddos at random times. This gives them something fun to look forward to during the trip, saves money at gas station stops, and keeps them busy and off screens.


Zip-Locked Packing – Packing children and keeping outfits together during travel is anxiety inducing for some. When you pack, put outfits together with socks and underwear or diapers and kids can take on their dressing without mixing stripes and plaid.


Camp Out – while this may not be for some, loading up the RV with games, food, clothes, and your family can make memories that will last a lifetime. Camping is also cheaper than staying in hotels and provides opportunities for your children to make friends with the neighbors. Check out swacu.org/promos for our current promotion on R.V.s!


Puzzles for the Win – set out a puzzle to be completed during downtime. This encourages family time and working together to complete a fun task.


Keep Your Money Safe – always travel with a little cash in case you run across an emergency. It's also good to consider using your SWACU Credit Card for the added layer of protection while taking new adventures!