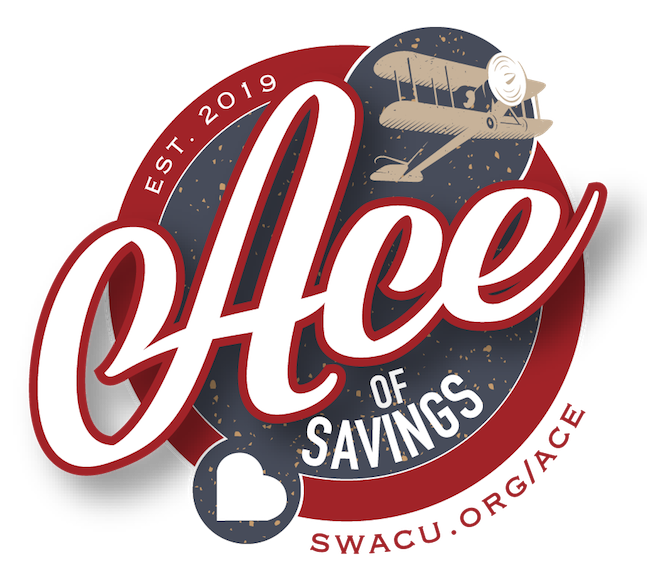 We want to invite you and your children to fly with Ace and Amelia into the world of saving, sharing, and spending? We are excited to announce the Ace of Savings Kids Club! We want to partner with you to help your children start their financial success at an early age. Sign them up to begin teaching them to have fun while saving and working towards financial goals, completing their chores, and earning rewards!
Ace Parents
Help your child learn to spend, save, and share!
Help them get started on the right financial path by working with them to put together their Ace MoonJar
Keep a close eye on your child's finances through the SWACU Mobile App
Download the FREE AceJR App for your kids to play fun games, learn financial lessons, set spending goals, and more!
Receiving competitive dividends helps your young saver, save even more!
Ace Kids
Earn fun prizes for meeting savings goals
Save, Spend, and Share with your own Ace MoonJar
Once your parents download the AceJr App, you can have fun while learning about money and responsibility!
AceJr App
Set-up/complete assigned chores
Get graded on how quickly chores are completed
Make savings goals and work towards them
Parents can link a Ace of Savings Account to their profile within the app. (Don't worry, no money can be moved, only see how much is saved)
Keep track of what money is spent on with the Personal Financial Manager
Play games and earn coins to build your own town
Dress-up the characters as more money is earned
Watch the lessons to learn more about money AceJr is fun for kids ages 3-12
Download the app here:
Ace of Savings Kids Club is for children ages 0-12. It is a savings account which encourages young members to save, set savings goals, and learn money management at an early age. Parents are invited to download the AceJr. App and set up accounts for their children and link them to their SWACU Accounts to allow children to keep a close eye on their savings. Members of the Ace Account will have opportunities to earn fun rewards for meeting their savings goals.