View all posts
Passing SWACU on to the Next Generation, One Car Loan at a Time
07/28/2020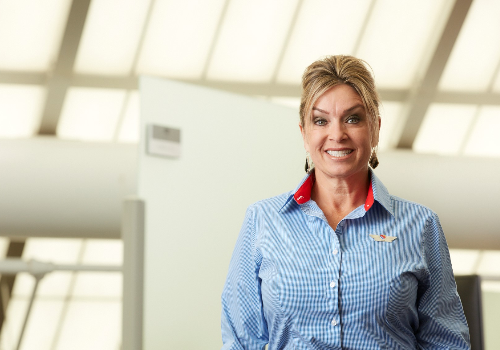 More than just a credit union is what Southwest Airlines Federal Credit Union lives by. From getting your first checking account or getting your first auto loan, we are here for our members, like Lisa. Lisa is a Dallas-based flight attendant and has remained a SWACU member since 1985. "I love coming into the credit union, the people, the candy, the way I get greeted. I just feel safe and secure with my money here."
Her SWACU journey began with a checking and savings account and it has grown ever since. "I loved the fact that my check goes directly into my savings, so that made it easy for me to join." Lisa has also taken the opportunity to apply for signature and auto loans. Lisa not only continues to use SWACU for her financial needs, but has helped her son get his first truck with SWACU's help.
She's a single mom of three and was able to help her son with a purchase of his first truck. She explained that when shopping for a truck she thought, "You know what, let's call SWACU and see what they have to offer."
Lisa gave SWACU a call and talked to one of our loan specialists to begin the process that would impact her more than she realized. Even though her son did not have established credit, Lisa was able to co-sign for him. "I was happy to co-sign for my son. He just landed a great job and was starting out his career and I knew he could afford the truck; no issues there," said Lisa.
"The loan officer who approved the loan, asked me if he could offer some words of wisdom to my son and asked if I could hand the phone over to my son, with my permission of course," said Lisa. The loan officer not only helped Lisa with her son's auto loan, but also offered some advice to help educate on how important credit is and how it can impact them in the future.
Lisa was in awe. She says, "I tell this story often to people, around my co-workers, especially those with kids." She thanks, SWACU for the not just for great service, but for also offering little things like financial advice to members and their families.
Her son has also taken advantage of our Bill Pay service through the SWACU Mobile Banking App. Lisa said, "It has made my son very responsible, since all he has to do is set up his auto payments through Bill Pay and it takes payments out automatically."
Until today, she doesn't recall who she spoke to over the phone, but she is very thankful. "Whatever that gentleman said to my son, I don't know if I could've ever made a difference as a mom to show him how important this was," said Lisa.
Lisa's personal experience is just another reason why members LUV SWACU and remain a member forever. "It's our connection here. It holds the Southwest Airlines title and feels like a family, I've never had that with a bank," she said.