View all posts
Once A Member, Always A Member
07/06/2020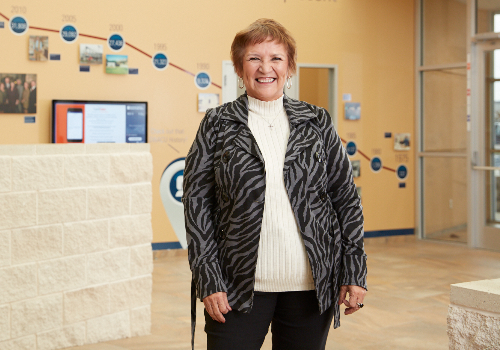 "It has always been a great Members Services experience for me since I joined SWACU in 1981", says Glo. She is known for her friendly and charming "glow" around the Dallas Branch. Her fun-spirited personality and poise made her a bit of a celebrity around SWACU and Southwest Airlines. Did you know that the Pilot's Breakroom in the old Pilot Training Center at Dallas Love Field was named "Glo's Landing" when she celebrated her 25th year anniversary at Southwest? This honor is now placed in the new multi-million-dollar Pilot Training facility across from the G.O./HDQ.
Even after retirement, Glo is a big deal and remains in the hearts of the Southwest and SWACU families. When she began her journey with SWACU, both SWA and SWACU were located at Love Field Airport in Dallas. "It was always convenient and easy; we would handle our transaction and even get lunch! SWACU and staff still work tirelessly today for its members by continually looking for new innovative ways to provide products and services that are practical and user friendly", states Glo.
Loans, checking and savings accounts are the services that SWACU provides for her and loved ones even in her retirement. "Take "FAST BALANCES" for our online account on their app as an example - Genius!! I LUV it. Their dedication to their members has evolved from inception to today but the "family feeling" has never wavered. I am a member for life!", beams Glo.
In addition, she states that SWACU provides security for her financial and emotional comfort. "I have come away feeling relieved and happy with their personal and thorough attention to my needs each time."
Unfortunately, in a world with fraudsters, Glo, like many others, has experienced fraud with her debit cards. She said she was fortunate to experience the kind and pro-active diligence of our fraud department to get everything fixed. "SWACU has my back and is always looking after my best interest no matter what. They make me feel special and protected."
Glo is not just a member but is a special part of the SWACU family and will continue to spread the "LUV" and joy. As she so charmingly put it: "I try to "Glo"w wherever I go"! And that she does, and we are grateful for lifetime members like her who make SWACU a little brighter when she walks through the door.
As always, we are committed to treating our members like family. And as we say at SWACU - "Once a Member, Always a Member". So, no matter where you go (or glow), you will have a Credit Union that cares.