Upgraded on May 31, 2023
Introducing a new digital way to bank that gives you more control, benefits, and convenience.
Based on Your Feedback
We agree with you--our load times were slow. The biggest difference you'll see is speedy load times on both your desktop and mobile app. You'll also see more stability, meaning fewer time-outs, error messages, etc.
New Look
We eliminated the "box" looking tiles. All your accounts will be viewable in a single-column-style dashboard.
New and improved features
We understand the importance of convenience when it comes to digital banking, so you'll be able to view your full account number, nickname your different accounts. Plus, access your statements and order checks directly from your account.
Add an Account
With some help, you can add an account without calling us. You can open a Term Share Certificate, checking account, or even a LUV Fund Money Market. You can also set up an automatic loan payment or apply to skip-a-payment.
What's Changing
The Spending Tab is going away and will be replaced with a new tool called, MyFinance.
---
FAQs
I received an email saying that someone logged into my account (between 7:00-11:00 am CST). Did my account get hacked?
When the new platform went live, it may have triggered an automatic email to you. For those who did receive it, that was the transition taking place.
Example email: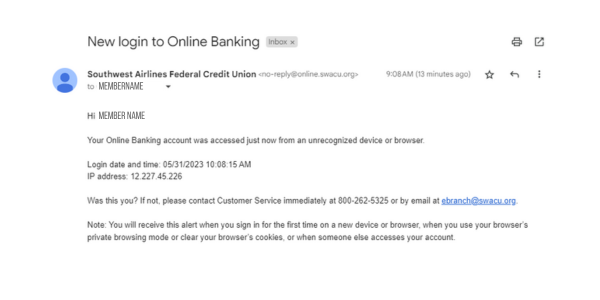 Do I need to verify my account?
Yes. Because this system is new, it doesn't have any record of your login history. It will prompt you with a question to "remember this device." If you select yes, you will not receive additional emails UNLESS you log in on a different device. If you select no, then you will continue to receive the email shown above.
What do I need to do?
If you currently use the mobile app, please update it to reflect the most updated version. If you don't, you may experience lags, bugs, and time-outs because you're using an older version.
How to manually update apps on your iPhone or iPad
Open the App Store.
Tap your profile icon at the top of the screen.
Scroll to see pending updates and release notes. Tap Update next to an app to update only that app, or tap Update All.
How to update an Android app
Open the Google Play Store app .
At the top right, tap the profile icon.
Tap Manage apps & device. Apps with an update available are labeled "Update available."
Tap Update.
I don't have the mobile app, but I use the browser on my phone. Will anything change with that?
While you can access your account through the browser on your mobile device, you won't be able to access all the features like you can through the mobile app. We strongly recommend that you download the app.
What happened to the Spending tool?
This tool was replaced with MyFinances. It is similar to the Spending tool, but with a different look and features.
The MyFinances page is making me re-enter my login credentials. Is that legitimate?
Yes, it will ask you to enter your online banking credentials one time to verify it is you trying to access it.
Don't have the app yet?